In many countries, gender inequalities still lead to discrimination and violence against women and girls as a result of social, cultural, legal and economic norms. These persistent inequalities prevent women from enjoying their rights and from actively participating in decision-making on issues that affect their lives. UN Women even estimate that it would take 300 years to overcome inequalities relating to legal protection or representation of women in the fields of power and leadership.  
Fortunately, community-based women's organisations are working to reduce this gap by ensuring that women and girls are involved in decision-making processes that affect them. Through the Voix Essentielles initiative, these organisations in Burkina Faso, Senegal and Côte d'Ivoire are helping to amplify women's voices and improve access to health services for them all.  
Some of their activities, highlighted by Moussonews...
---
Sope Sa Njabot: heroines in the community response to Tuberculosis
In Senegal, Sope Sa Njabot has been informing, raising awareness and advising people on all aspects of the fight against tuberculosis since 2006. A community approach that is bearing fruit in Mbour thanks to support from Speak up Africa through the Voix Essentielles programme.
In Mbour, located on La Petite-Côte, about 80 km south of Dakar and bordering the seaside resort of Saly, Alimatou Sadiya Samb, community liaison officer for the Sope Sa Njabot association, regularly visits people in her neighbourhood to show them how to protect themselves against tuberculosis. This community volunteer is involved in a campaign to prevent and treat tuberculosis, even in the most remote areas of her commune during the rainy season. (...) Alimatou Sadiya Samb fully embraces her mission.
"We sometimes come across people with mental disorders or people with disabilities living with the disease without help. We are the relays who become their mothers and fathers. We are the ones who make sure they get better because they have no one to help them."

Alimatou Sadiya Samb, community relay of the association Sope Sa Njabot
---
The Bajenu Gox in Thiès have succeeded in improving mother and child health
Senegal has recorded good results in terms of infant, neonatal and maternal mortality in recent years. Behind this success lies a tremendous effort by the Bajenu Gox. We went to Thiès to see the recipe for the success of these "neighbourhood godmothers", recipients of Voix Essentielles funds.
On a chilly morning, after light rain had fallen on Thiès the day before, the Bajenu Gox, all dressed in white, organised a chat session, one of their flagship activities. At these events, they share their knowledge with each other. Adja Fatou Badiane, a Bajenu Gox (which means "neighbourhood godmother" in Wolof), heads the Bajenu Gox association of Thiès, which has more than 250 active members. (...) Adja Fatou Badiane describes the main areas they work in:
"We advocate for action in three areas to reduce maternal mortality. The first one is about women's decision to wait too long before going to hospital. We raise women's awareness so they don't wait for the last minute before going to a health facility. Going to hospital late poses enormous risks. Secondly, we also intervene in the late provision of care in hospital. Finally, difficult access to certain health structures is our third area of advocacy."

Adja Fatou Badiane, Bajenu Gox
Tuberculosis: 200 lesbians cared for by "Coeur Valide" in Côte d'Ivoire
People suffering from tuberculosis are cared for and monitored free of charge by the association - Coeur Valide - in San Pedro in Côte d'Ivoire. Among them are more than 200 lesbians. Their support is further facilitated by the Voix Essentielles programme.
Being a lesbian and having a disease like TB is an uphill struggle in Côte d'Ivoire. In San Pedro, the Coeur Valide association keeps coming to their rescue. Christiane, 30, owes her survival to this association. She is a trader who belongs to this sexual minority, and has suffered from tuberculosis for a long time. She is now cured thanks to the association's monitoring programme. With a lump in her throat and her eyes filled with tears, the young woman testifies that she has survived thanks to the care provided by Cœur Valide.
"The disease was slowly eating away at me. I was suffering on a daily basis. But when I found out about the Cœur Valide project, I was able to benefit from the care provided, free of charge. I feel much better."

Christiane, trader
---
Côte d'Ivoire: Fenac advocates for the distribution of sanitary towels in schools
The issue of menstrual hygiene management is a concern in many African countries. Menstruation is sometimes a reason for girls to drop out of school. In Côte d'Ivoire, the association Femme en Action (Fenac) advocates for the distribution of hygiene kits in schools. It has carried out several activities and campaigns to raise awareness as part of the Voix Essentielles programme.
Adopting a policy to distribute sanitary towels to teenage girls in schools in Côte d'Ivoire is now the Femme en action association's fight. Nadège Epi Kouadou, the project's coordinator, has not had a moment's rest since she began supporting Speak Up Africa with the Voix Essentielles programme for the Top fille project. With her team, she travels to establishments in Abgoville, 71 kilometres from Abidjan, to raise awareness about menstrual hygiene management.
---
Bittou: The widows and orphans association halts the spread of malaria and tuberculosis
Malaria is the leading cause of mortality in Burkina Faso. Among the thousands of preventable deaths are several women and children. In Bittou, a town on the Ghana and Togo border, the Widows and Orphans Association is at the forefront of the fight against this deadly endemic with support from the Voix Essentielles fund.
Although the mother acts to guarantee the wellbeing of children, households and the community, the decision to seek health care does not rest with the head of the household. This gender inequality slows down the many efforts underway to control and eliminate malaria in the Centre-East region of Burkina Faso. The Bittou Association of Widows and Orphans (AVORB) aims to break this social barrier through its malaria and tuberculosis prevention advocacy.
For six months, the president of the association, Maïmouna Savadogo, and her facilitators held information sessions for women on how to prevent malaria and on how important it is for them to seek health care. Heads of households are also educated during these community talks
---
Sexual and reproductive health: lives saved by Gnintawoma
Discussing sexual health issues in the commune of Garango, a town in the Centre-East region of Burkina Faso, could be considered an affront to morality. Strategically and with a community-based approach, as part of the Voix Essentielles programme, the Gnintowama association has been able to establish exchanges around the issue of sexual and reproductive health. Thousands of local women and girls are now enlightened on the subject and make independent decisions.
Sabine (not her real name), 17, owes her life to the Gnintawoma association. She had tried to have a clandestine abortion. The bleeding hadn't stopped, to the extent that some of her friends were concerned about her health. The educational talk held by the Gnintawoma association in their school came as a sound of relief. At the end of May 2022, Sabine's high school in Garango was chosen for a campaign to raise awareness on the dangers of abortion and drugs, but also on contraceptive methods to avoid unwanted pregnancies
Every 28 May is World Menstrual Hygiene Day. This day concerns us all, regardless of sex, age, race, geographical location or religion. Yet in Burkina Faso, talking about menstruation is still a taboo subject. This difficulty in talking about menstruation in general and in particular about the behaviour to adopt for good menstrual hygiene hinders the progress of many efforts that are made daily for gender equality.
Menstruation is a natural and normal biological process that indicates a woman's good reproductive health. It should not be perceived as a phenomenon that gives off a negative aura, fear, shame and embarrassment. This is why World Menstrual Hygiene Day is intended to be an opportunity to break taboos about menstruation, to raise awareness and to start a conversation on the subject. It also aims to raise awareness of menstrual precariousness among key actors and decision makers. 
Among the Sustainable Development Goals (SDGs), SDG 6 "Clean Water and Sanitation" aims to ensure the availability and sustainable management of safe drinking water and sanitation, and one of the specific goals involves providing women and girls with access to adequate sanitation and hygiene by 2030. It is therefore essential that menstrual hygiene is aligned as a public health priority. 
To boost the celebration of World Menstrual Hygiene Day and make our contribution to the fight, we are constantly organising events. Examples include digital campaigns, educational talks, training on how to make reusable sanitary pads, advocacy, and activities to mobilise personal resources to provide reusable sanitary pads to vulnerable girls and women. 
All these actions reflect our vision: "to create a world in which all girls and women are fulfilled". These actions also aim to :
(1) raise awareness by widely disseminating the necessary information to young girls and women about menstrual hygiene;
(2) to look more broadly at the status of women and menstrual issues in our community;
(3) combat the stigmatization of young girls and women during their menstruation;
(4) mobilise resources to address menstrual insecurity by providing dignity kits or menstrual protection kits to vulnerable girls and women; and
(5) promote girls' education, respect for women's rights and dignity. 
On 24 May this year, we launched a digital campaign on our communication networks. Also, on Saturday 28 May, we held a discussion on menstruation in general and the myths surrounding the topic. This discussion brought together more than twenty of our members and will end with an aerobic session to denounce the many difficulties that young girls and women face during their menstruation.
Don't stand on the sidelines, we all need to break the taboos around menstrual health and hygiene management, so get involved with us too!
---
By Farida Tiemtore, President of Héroïnes du Faso and recipient of the Voix EssentiELLES Fund.
Mousso News: Why did you create the citizen movement Femin-in? 
Bénédicte Baillou: We created this movement because we want to contribute to reducing social inequalities with a feminist approach. We believe that in order to change the perception of women in society, it is essential to put words to the patriarchal flaws that women are victims of.
In Burkina Faso, several prejudices about women emerge in the public debate, what are the specific actions of your organisation to break these perceptions? 
First of all, we need to change the narrative, so in this sense we are raising awareness through social networks, then we are doing training and information because the more girls and women are trained, the better they can participate in changing things.
02 years of Femin-in, 02 years of advocacy for the effectiveness of women's rights, information and communication on the potential of women, what are the achievements of Femin-in that you are proud of today? 
The legal and psychological clinic that provides free support to girls and women who are victims of GBV. We provide them with legal support and judicial assistance so that they can obtain compensation. The second pride for us is the establishment of the political incubator, which is now operational.
What makes this incubator so proud? 
The political incubator is a source of pride for us because it is the main reason why the movement was set up in the first place. "Decisions that are made without us for us are made against us. We no longer want to be absent from the decision-making spheres, we want to have our say in the development of public policies and in their implementation. It is for this reason that we are implementing a series of advocacy activities to take into account specific needs in the programming of health policies through the Speak Up Africa Essential Voices initiative.
What are your ambitions for the future? 
The first ambition is to position the FEMIN-IN Citizen Movement as a civil society organisation that works with and for communities. The other ambition is to participate in the highlighting of a new generation of political women and girls. Finally, we want to contribute to the emergence of a Burkinabe feminist movement.
What is your message to young people who, like you, are hungry for qualitative social change?
For real social change, it is imperative to rely on and with women. Because no nation will develop sustainably without equitable social justice.
Interview by Harouna Drabo,
Journalist participating in Speak Up Africa's 'Lines for Impact' initiative.
On October 11th, we celebrated the International Day of the Girl Child, a day to talk about the challenges facing girls and to encourage their empowerment. This year's theme was "Digital Generation, Our Generation," a theme that is particularly relevant in the COVID-19 context. 
It is essential to support young girls so that they can reach their highest potential and make their own decisions regarding their future because gender inequalities start at a young age. Indeed, while women are the engine of economic development in Africa, it is estimated that it will take 121.7 years to close the gender gap in sub-Saharan Africa.
Still today, there are inequalities in access to health services for girls and women due to cultural, social and economic factors, especially in developing countries: they have lower incomes, have to rely on a family member, carry heavy family burdens, do not have access to education or suffer from discrimination. We also know that these inequalities persist throughout their lives. When they are young, they are not given the same attention as boys when they suffer from childhood diseases. And when they are teenagers and of childbearing age, they do not have proper gynecological advice and care. It should be noted that in addition to maternal mortality, genital mutilation and sexually transmitted diseases, women aged 15 to 49 are more affected by HIV, tuberculosis and malaria.
These many challenges prevent them from attending school or work and therefore from being fully independent, while at the same time they contribute strongly to the health sector, representing 70% of the community health workers in the world. 
Education is a vital foundation for these girls to gain the knowledge they need to participate in policy-making processes and reduce the socio-cultural burdens that follow them throughout their lives.
For Professor Ndioro Ndiaye, Coordinator of the Francophone Network for Gender Equality and President of the Leadership Council of Voix EssentiELLES, it is essential to promote them in decision-making spaces: "As we celebrate the International Day of the Girl, I call for increased representation in political systems, and for more women to get involved in grassroots politics." She said in an op-ed for Face 2 Face Africa. Women are also in the best position to develop policies that will respond precisely to the problems they face daily. Indeed, "women's ability to make their voices heard, to make decisions, and to assume their leadership are essential for their empowerment," she stated for BBC Africa, in a program broadcast for the Day.
The Voix EssentiELLES initiative, launched last July by Speak Up Africa and co-financed by the Global Fund and Fondation CHANEL, in Burkina Faso, Côte d'Ivoire and Senegal, addresses these issues. It aims to support and strengthen the capacities of women's and girls' organizations so that they can participate in the development of health policies that affect their health and well-being. Within the framework of Voix EssentiELLES, a dedicated fund has been created and technical support will be provided to them through the University of ExcELLEnce for them to benefit from organizational, leadership, advocacy and communication skills in the three countries.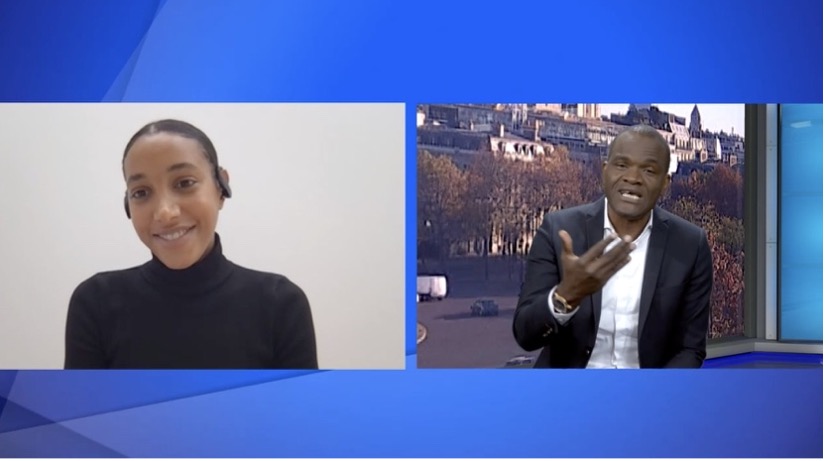 "I am very happy to see that Voix EssentiELLEs intends to promote the emergence of micro-organizations, which are numerous in Burkina Faso and unfortunately lack funding opportunities to act better. This initiative marks a revolution in the process of implementing health development programs in Burkina Faso. Stevie Reine Yameogo, Vice President of the Network of Young Ambassadors for Reproductive Health and Family Planning in Burkina (JASR-PF/Burkina).

Stevie Reine Yameogo, Vice President of the Network of Young Ambassadors for Reproductive Health and Family Planning in Burkina (JASR-PF/Burkina).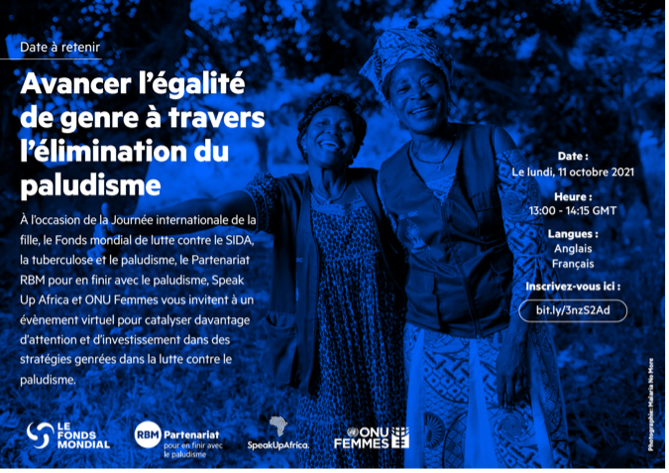 The gender theme is linked to the improvement of the health conditions of the population and must be integrated to respond specifically to the needs of young girls and women.
Also on International Day of the Girl, and to catalyze further attention and investment in the impact of malaria on girls and women, the RBM Partnership to End Malaria, the Global Fund, Speak Up Africa, and UN Women organized a virtual event on the theme "Advancing Gender Equality for Malaria Elimination".
"For too long the fight against malaria has been gender blind. It is time to address the hidden burden of malaria on women and girls."

Ellen Johnson Sirleaf, co-chair of the Global Council to End Malaria, former President of Liberia and founder of the Presidential Center for Women Leaders and Development.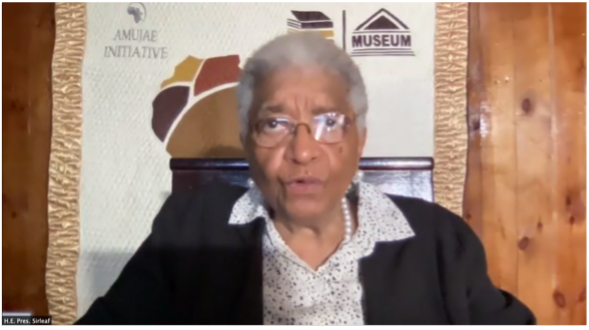 Malaria has many consequences for millions of women and girls in terms of access to health care, school and employment. Malaria is a particular burden on pregnant women, causing nearly 10% of maternal deaths, 11% of newborn deaths and 20% of stillbirths in sub-Saharan Africa. Women are at the front of the fight against malaria, whether in the health services as health workers, in the public sphere as community leaders, or at home caring for family members. To enable them to better manage the disease, "we must build the capacity of women and place them on the main stage by empowering them, by helping them, by supporting them morally, physically and financially." emphasizes Fatimata Sy, President of the Senegalese Association for the Future of Women and Children, in a video released at the event about the Voix EssentiELLES initiative.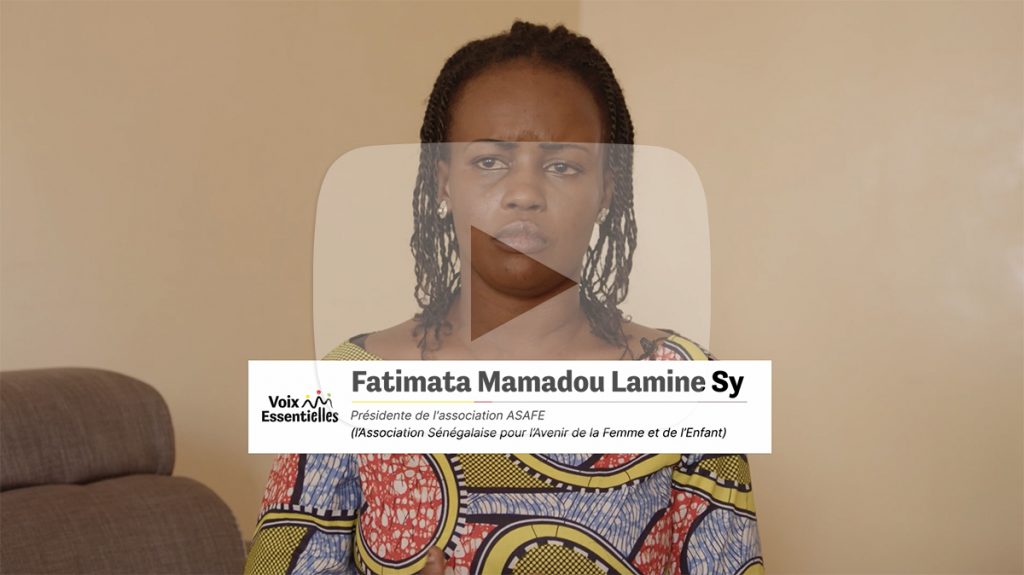 However, the march towards gender equality can only be achieved if boys and men are included.
The notion of positive masculinity must be widely promoted to allow them to be allies in this fight. In male-dominated spaces, their stance and their commitment would help change behaviors, fight against prejudices and redefine social relations between men and women.